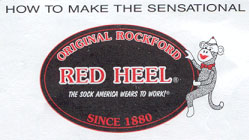 MATERIALS:
1. One pair ORIGINAL ROCKFORD RED HEEL Socks
2. Stuffing - cut up old nylon stockings, hosiery waste, cotton batting, kapok, shredded foam rubber or polyester fiber.
3. Red knitting yarn.
INSTRUCTIONS:
TURN SOCK INSIDE OUT
Sew a seam (A) 1/2 inch on both sides of the center of sock starting three inches from the white heel and across the end of the top. Cut the sock between the seams and to within 1-1/2 inches of white heel. This leaves an opening in the crotch.
Then turn the sock so the seams are on the inside and use the crotch opening to stuff the head, body and legs.
ARMS:
Cut the upper part of the sock into two pieces. Seam, rounding the ends and stuff the arms.
MOUTH:
Cut the heel from the sock, leaving a brown edge around the white. Fasten on lower part of the face, whip-stitching around the bottom; stuff and finish sewing around the top. The mouth can be improved by a running stitch of either black or white across the middle of the lips.
TAIL:
Cut a one inch strip, taper to end of cuff on length of front of sock. Seam and stuff.
EARS:
Cut the ears from the remaining brown part of the sole of the sock.
EYES:
Sew on moving eyes, buttons, felt, or embroider with black thread. (For very small children embroider the eyes.)
CAP and FEZ: (Optional)
Cap: Cut off toe of another sock, leaving 1/2 inch of brown to roll for a brim.
Fez: Lucius' own fez design may be found here.
There are many variations from this basic pattern. Decorations can be either pompons, yarn or bells. jackets, vests and skirts are also used for clothing the monkey.
Fox River Mills, Inc.
227 Poplar Street, Osage, Iowa 50461
Phone: (515) 732-5128